Records tumbling, a body ageing but the Federer Express shows no sign of slowing down. Just 3 weeks after winning a record 20th Grand Slam title Federer becomes the oldest player to ever hold the No. 1 position.
The father of two sets of twins has rolled back the years to win his 97th career singles title after he beat Grigor Dimitrov in the finals of the Rotterdam Open and also set the record of the longest gap of 5 years and 106 days between stints as No.1 beating Andre Agassi's record of 3 years and 142 days.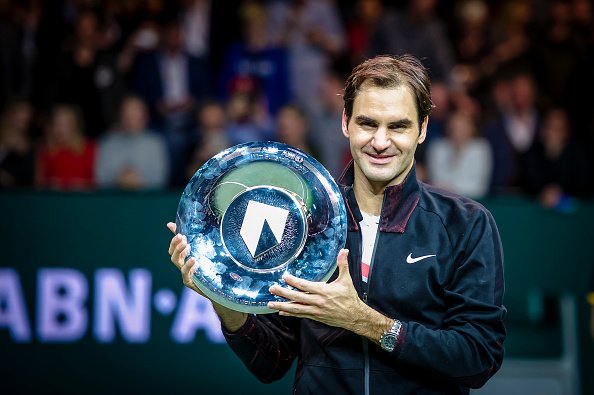 "Sometimes at the beginning you just kind of get there because you played so well, but later you have to fight for it and have to wrestle it back from someone who deserves to be there. When you are older you maybe have to put double the work in. This maybe means the most to me in my career … it's a dream come true, I can't believe it" said Federer after he dethroned Rafael Nadal from the No.1 spot. Even after winning everything that the tennis circuit has to offer and virtually owning every record there is, the 36 year old still thinks that it is dream to get to the no.1 ranking after having already spent 302 weeks at the top which is a record in itself.
For all the magic that Federer possesses which the rest of the tennis world can only dream about, it is his ability to keep learning and adapt according to his ageing body that enables him to maintain his level of play. He has changed his racket, changed his back-hand technique and his tactics at an age which is considered well past the retirement age in the tennis world.
"He does not play at all the same way as he did fourteen years ago. He wants to learn every time he enters the court.
"It's so cool to see someone like him who loves what he does.
"We talk about his grace, the way he moves on the court.
"But it is this inner strength, this emotional part, fragile and invisible, that places it far in front of everyone." Wilander a seven time Grand Slam champion and former world no. 1 told French newspaper L'Equipe.
In 2012 when Federer lost the No.1 spot to Novak Djokovic, many predicted that his days as a top player were behind him and that it was time for the likes of Djokovic, Murray and Nadal to take over his mantle. Though both Novak and Andy had their moments at the top, it seems Federer has found a new dimension to his play.
Federer has also managed to keep his injury concerns at bay after he was sidelined with a knee injury in 2016 because of which he had to skip the French Open breaking a streak of 65 consecutive Grand Slam appearances. Though he appeared in the Wimbledon that year somehow managing to reach the semi-finals, he then shut down his season to train to get back to full fitness and came up with a new plan to protect his back and knees.
Quality not quantity seemed to be his new motto and he returned the following year to play in 12 tournaments. He won 7 of them including a record 8th Wimbledon title and hasn't looked back since. In this run he has also beaten his arch nemesis Rafael Nadal in 4 consecutive matches including the epic 5 setter in the Australian Open final.
"My philosophy is I play when I'm ready. What I did last year and what Rafa (Nadal) is doing also is maybe a bit of a lighter schedule," he said in the Dutch port city.
It seems that fellow players in their 30s like Nadal, Novak and Murray who themselves are struggling with injuries can take a leaf out of his book and take heart that there is still a way back to the top level in the twilight years of their career.