After a dismal performance by Arsenal at the Wembley last Sunday losing out to runaway league-leaders Manchester City in the Carabao Cup final, Arsene Wenger's side succumbed to yet another loss to the same opponents, this time in the Premier League.
There was nothing new in this tie which ended with the same score-line of 0-3 in favour of the Blues, who seemed way too relaxed after such an aggravating cup final to come and add salts to Wenger's wounds, displaying some top notch stuff.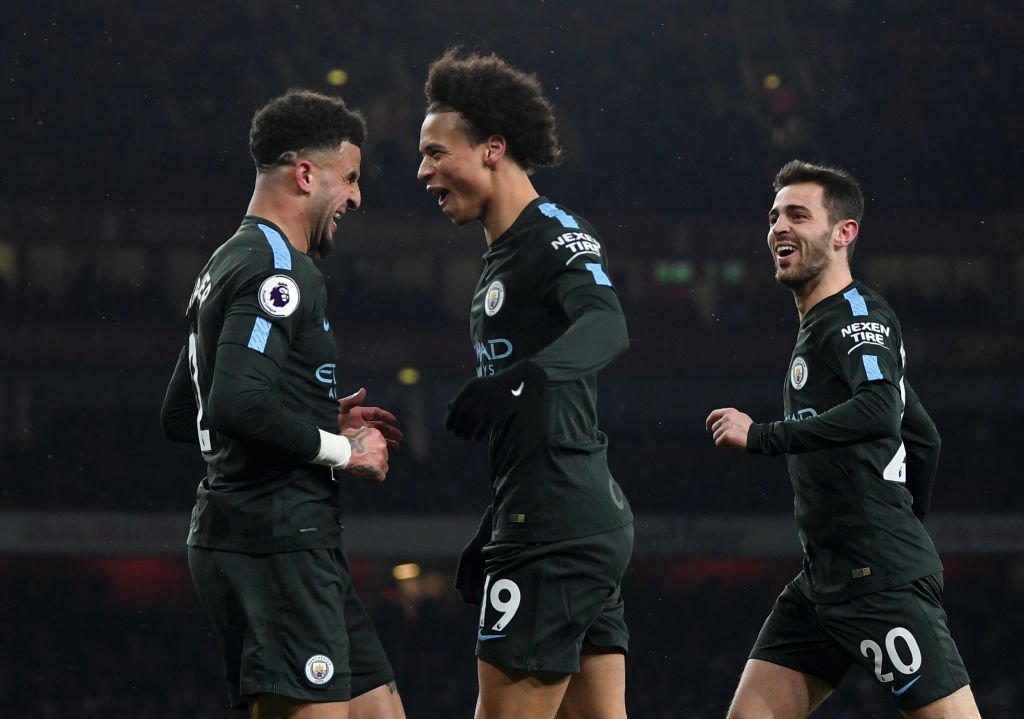 Another pale result from the Arsenal perspective, Wenger's side now trail City by a mammoth point-gap of thirty and are in a vulnerable position to secure a Champions League spot. Pep Guardiola is the first manager to register three wins against Arsenal in a season since Jose Mourinho's Chelsea in the 2005-06 season, Wenger's position at the London-based club is under real scrutiny as Arsenal continue looking lifeless even after bolstering a star-studded side.
Arsenal Player Ratings:
Petr Cech: Ending his 10th game without a clean sheet, the shot-stopper put up a poor show at home. 5
Hector Bellerin: Outpaced and outclassed by Sane completely. Made some good runs forward but could not capitalize on chances. 5.5
Shkodran Mustafi: Continuing his poor form from the cup final, the German had a painful 90 minutes in the cold night out. 5
Laurent Koscielny: The Gunners captain tried all he could, but the defence was just too easy to penetrate for the opposition Blues. 5.5
Sead Kolasinac: Making costly defensive errors and giving Bernardo Silva way too much room for the first goal, Wenger may have missed Monreal for this crunch tie. 5
Aaron Ramsey: Looked sturdy and determined at times, but given his team's low morale coming into this game, even he couldn't save them. 6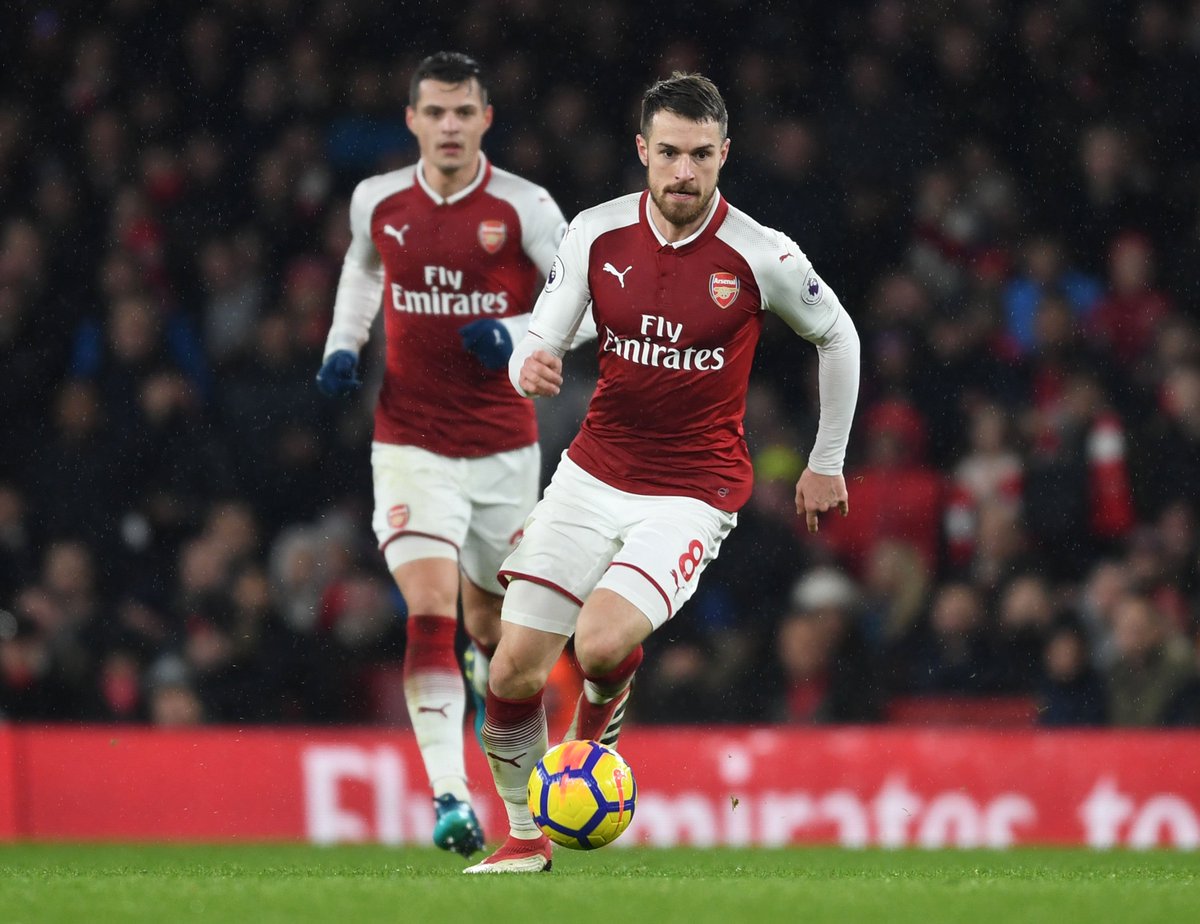 Granit Xhaka: Completely clueless at times, Xhaka's position in the starting XI have been questioned by many Gooners. 5
Henrikh Mkhitaryan: Still looking shaky at times, the Armenian may want some extra time to fit into this under-performing Arsenal side. 5.5
Mesut Ozil: Lack of determination to break the deadlock and give a fight back, Ozil's lethargic runs were not welcomed by the scarce Arsenal fans at the stands. 5.5
Danny Welback: Playing at the LW position did no good as the English international just didn't click against the strong City defence. 5
Pierre-Emerick Aubameyang: Missed the crucial penalty in the second half which could have changed the final outlook of the match as the Gabonese seemed to have lost his mojo since his big money move to the Emirates this January. 5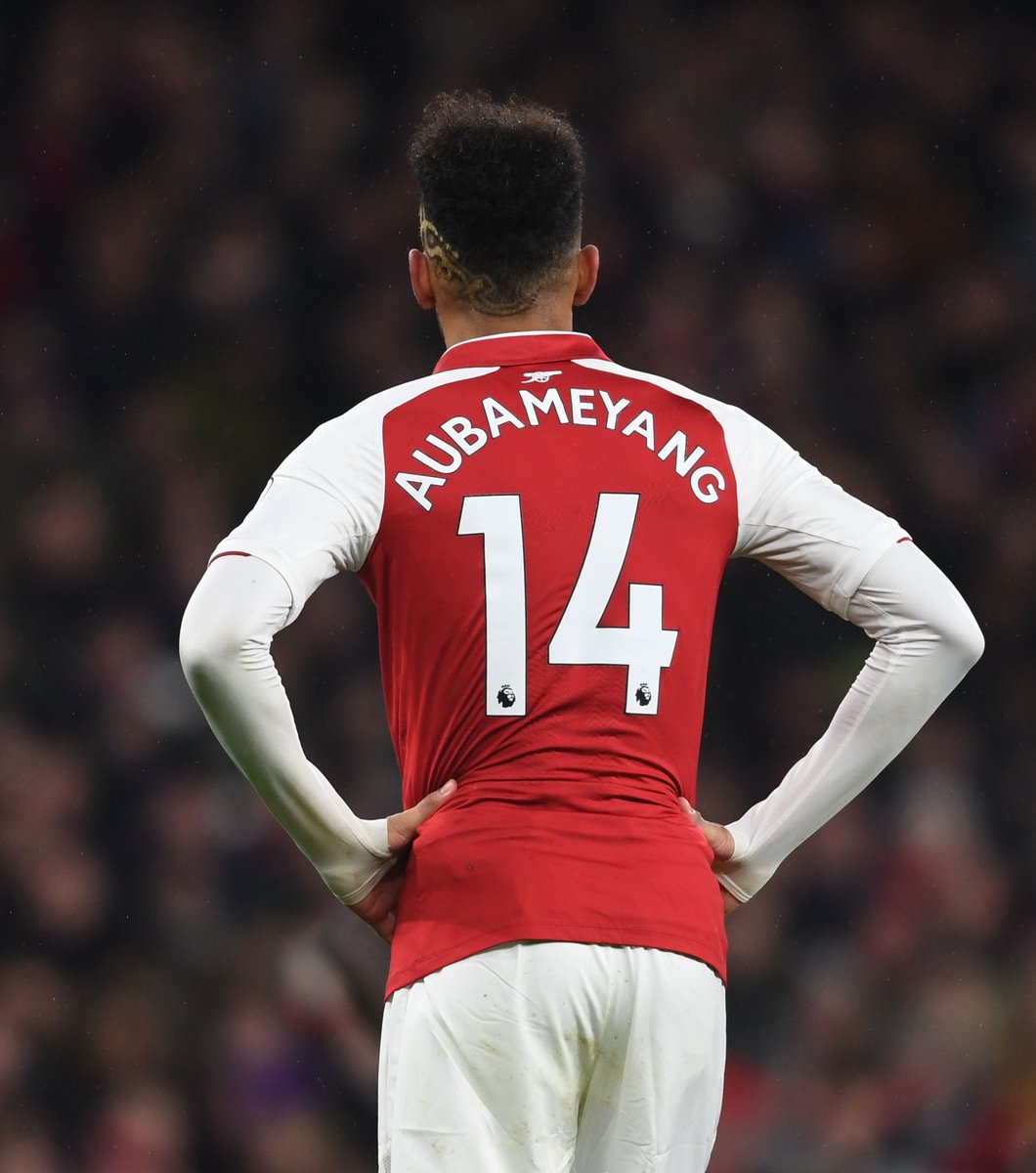 Manchester City Player Ratings:
Ederson: Saved a penalty and made excellent saves to end the game with a worthy clean sheet. 9.5
Kyle Walker: Assisting Sane for the third goal, the right-back completely got the better of Welback as the ex-Tottenham star continues to justify his hefty pricetag as his forward runs were too much to handle.
Vincent Kompany: Captain Fantastic delivered for the Blues yet again as the Belgian beast is returning to his best again, giving Pep the needed sigh of relief. 8
Nicolas Otamendi: Otamendi proved why he is central to Pep's defensive combinations giving a strong performance in the chilly weather, cutting almost every incoming runs. The only glitch in his performance was the conceded penalty. 8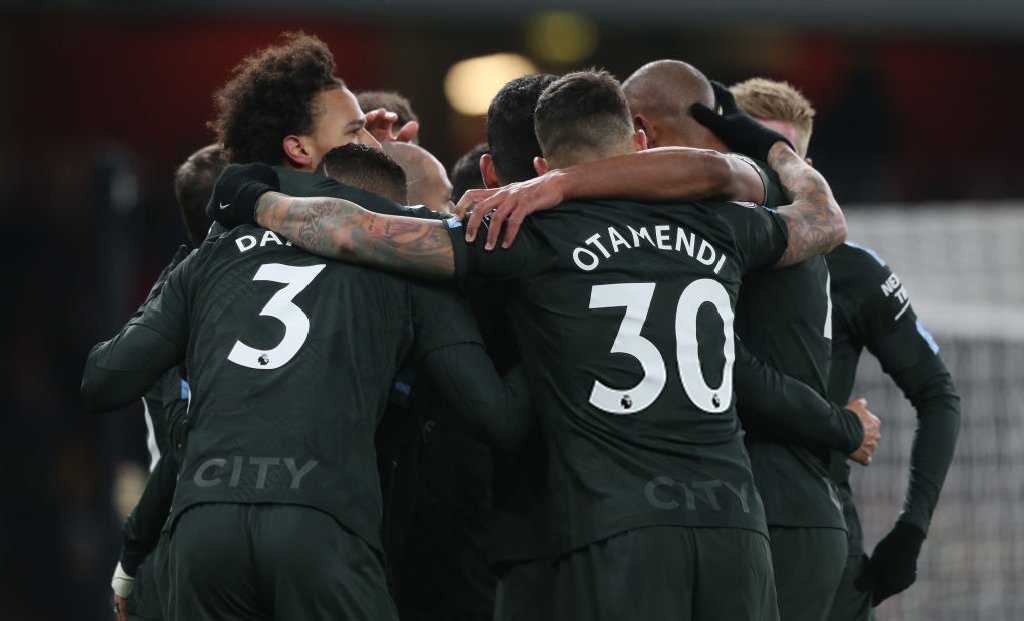 Danilo: Given he is not a proper left-back, but the Brazilian showed just why he has been labelled as versatile by his manager, performing exactly to the expectations held of him. 8.5
Kevin De Bruyne: Though it didn't turn out to be his game, De Bruyne still remained a pivot in all of City's attacks forward. 8
Ilkay Gundogan: Taking up Fernandinho's position at the defensive midfield, the German did a clean job in holding off any real threats from the Gunners. 8
David Silva: The little magician scored a gem of a goal and gave City the all-important 2 goal lead in the 28th minute and orchestrated the City midfield to perfection. 9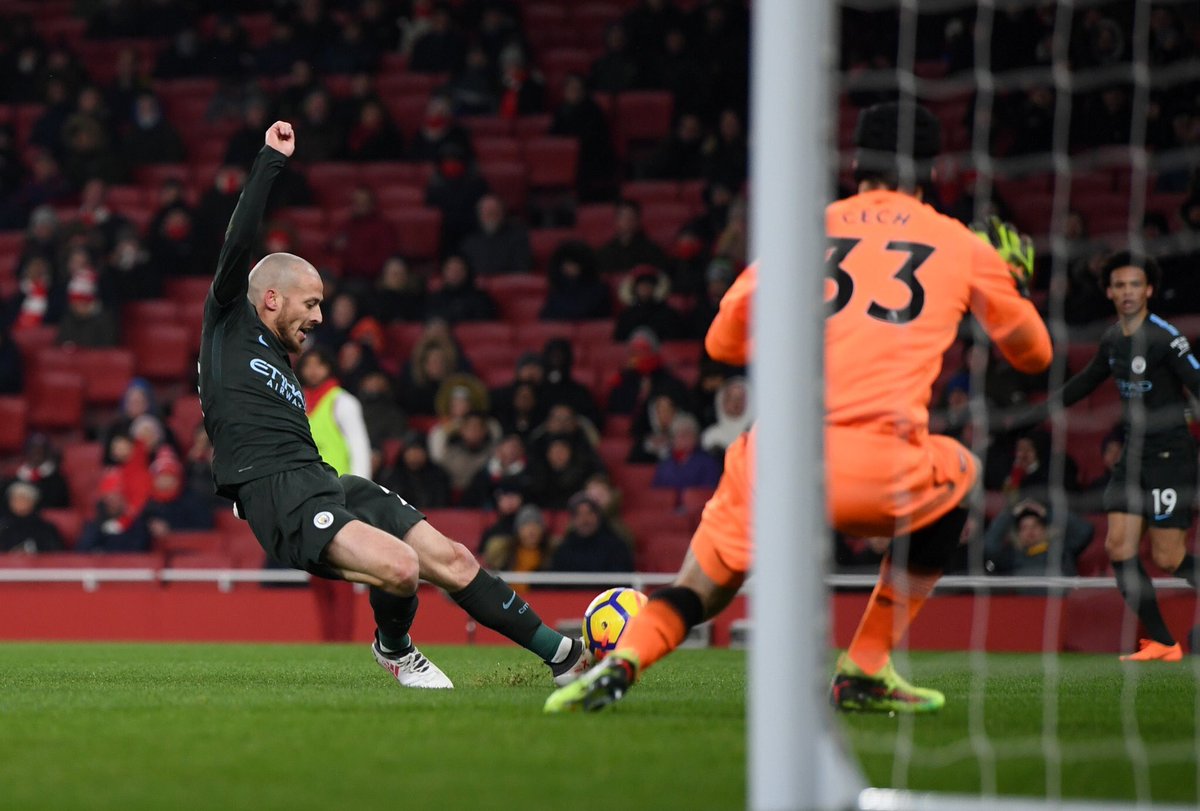 Bernardo Silva: His brilliant opener in the 15th minute set the Arsenal hearts on fire after displaying some crisp footwork on the ball throughout the game hinting why Guardiola asserted that Bernardo will remain a City player till he stays. 9.5
Sergio Aguero: Though he didn't score, he did shoot some on target and also set up David Silva perfectly for the second goal which had elegance written all over it. 8.5
Leroy Sane: The MOTM of the yesterday's match, Sane mesmerized the crowd with his dribbles and forward runs and ended the game with a goal and an assist. 10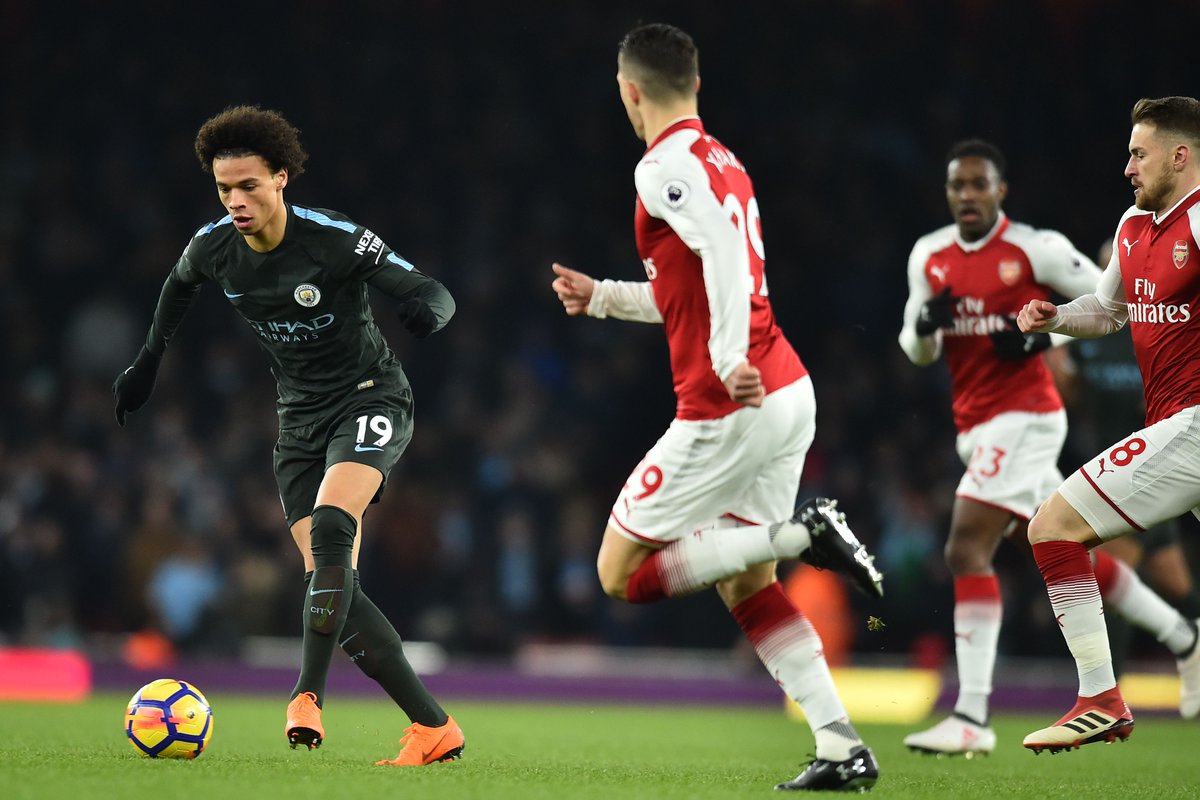 Substitutes used:
Olexandr Zinchenko: Coming on for Walker in the 72nd minute, Zinchenko impressed in the liitle time available proving why he has become so crucial in Pep's plans. 6.5
Yaya Toure: On for Aguero in the 82nd minute, the 34-year old made no hash of his given chance.
Gabriel Jesus: Though he spent barely 5 minutes on the pitch, Pep will be happy Jesus is fit again as its sure the 20-year old Brazilian will have a big say in City's pursuit of accolades this year.