Roma traveled to the city of Naples to take on League leaders Napoli at the stadio San Paolo. In what was the biggest game of the weekend in Italian football with both the league title and the Champions League places very much on the line. Napoli coming into the game was on a 14-game winning streak while Roma was unbeaten in 19 of their last 20 games away from home. In a game that Napoli dominated we saw an unreal performance from Roma as they stunned the league leaders in their house to open the floodgates for Juventus. Roma's 4-2 to win Napoli extended their winning streak at that Stadium as a game of frustration from Napoli sees their title challenge threatened. While Roma retake 3rd.
1. Roma's sharp finishing: If there's one thing that can be said of last night's performance it is they powered through something that has held them back. They overcame the adversity of one of their biggest struggles this season. For the majority of the season especially when they hit that poor run in December the thing that they have struggled with the most is clinical finishing in front of goal. The team hasn't had a lack of chances but lacked the quality on their Finishing Touch. They have lost several points in the league because of this and it might have cost them the title Chase. As we saw last week against Milan Roma's inability to take advantage cost them. However in this match they overcame that Napoli dominated the majority of the game getting twice as many chances to score. Despite that they're finishing in front of goal was sharp as a tack. They scored four of their five shots on target. When their chances came they delivered they understood the importance of this and broke down the League's best defense with four goals on five chances. Despite not having barely any possession they managed to score four unanswered goals against the title favorites to give Napoli their biggest loss of the season only man city has managed that goal total against this great Napoli team.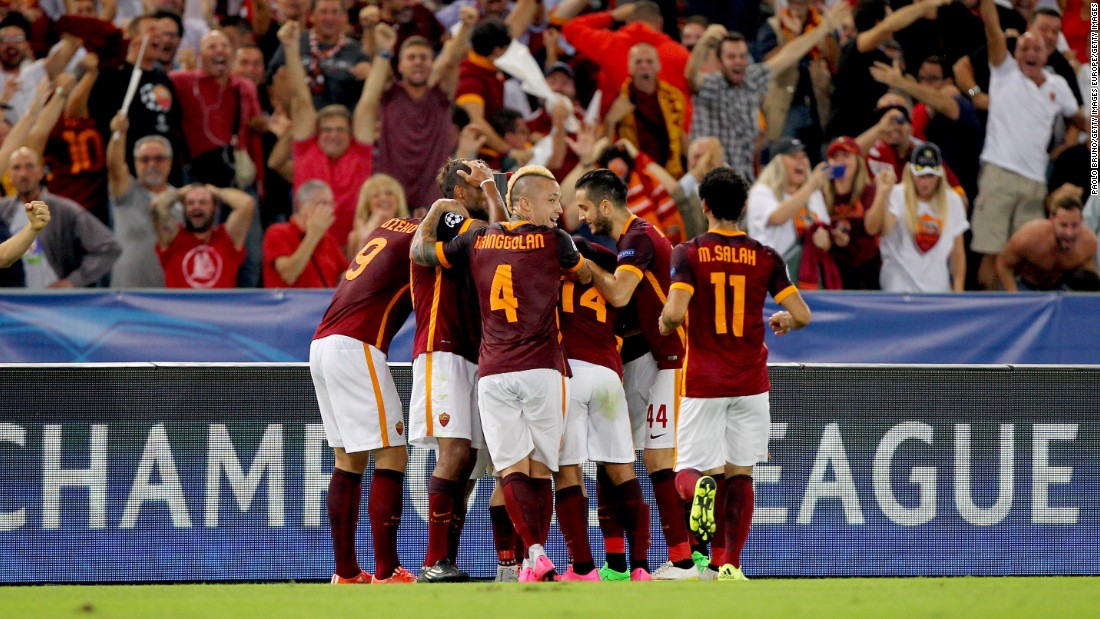 2. Lorenzo Insigne vs Alisson Becker: One of the biggest talking points of this game was the battle between Napoli winger Lorenzo insigne and a Roma's goalkeeper Allison Becker. This was a thrilling matchup between two of the best players at their position. Lorenzo insigne put in quite a performance threatening on a consistent basis. While the big Brazilian in goal was forced to play the game of his life to counter the attacks. Lorenzo insigne did score Napoli's opening goal but despite that Alison Becker seemingly won this battle. The Napoli Winger on another day would have scored at least 3 results.
Lorenzo Insigne had 10 shots on target an incredible performance if it wasn't for the fact Allison saved 9 of his shots. Such an incredible performance for Allison the most thrilling of the saves was a double save on in Insigne with the game very much in balance. A very frustrating day for the Napoli winger with Allison winning a battle between two world-class talents putting in his best performance of the season with 12 saves. Not a bad performance from Lorenzo insigne but Allison was just better as far as goalkeepers go he is next level. however it was nothing short of spectacular to witness.
3. Dzeko's return to form and historic night: Roma's Bosnian Striker edin dzeko scored two decisive goals and Roma's 4-2 win over Napoli at the San Paulo. He scored the goal to give Roma the lead in the first half and then scored Roma second to put the game to bed as he tried to rediscover his form. He looked great last night looked like the dzeko from last season. He was man of the match helped roma getting 3 points but on a personal level it was a historic night for the Bosnian. Not only did Dzeko's double take him to 14th on the all-time Roma scoring list with his 64th and 65th goals for the club. But there was even more significance as he reached 50 Serie A goals for Roma in just two and a half years. With his 50th league in Italy he becomes the first player in history to score 50 League goals in three of the top 5 leagues. The 30 year old has 50 League goals in Serie A with Roma 50 Premier League goals with Man City and 66 Bundesliga goals with Wolfsburg. Now my hope is Roma can deliver a trophy to to this man who desperately deserves it. If dzeko continues his form Roma have a good chance to make something of the season.
4. Juventus are now title favourites: Napoli's loss to Roma unfortunately did come at a cost. This results might have cost them the league title. we have seen for many years Juventus win again and again and again. This Napoli team gave us hope it's something different that happened this season. it has been a dog fight between Juventus and Napoli with many italian football fans alike hoping for the team from Naples. However the race for this title has been so tight between these two teams and fortunately for Napoli Juventus have a game in hand and got the job done against Lazio. Meaning they will be top if they win their game in hand and don't lose key Games. this costly loss to the Romans inevitably puts Juventus in the driver's seat to win the title. With Juventus already having one their first meeting in Naples they can cause some separation when they meet again as the defending champions are extremely hard to beat at home in fact only one team has beat them at Juventus Stadium since it opened. more or less this match has cost them the title.
5. Napoli still have the ability to win this:
Juventus is in the driver seat that is just the fact of the matter. Everything that I mentioned in my last paragraph remains true that doesn't mean Napoli can't still win it. As long as that team plays like that and tightens up the defense it is not quite over for them. they dominated the game from start to finish especially in the second half very few teams are going to be able to do what Roma did. Unlike some other teams Roma does really well in that Stadium. Napoli still has an excellent coach with a good foundation not to mention all the quality they have it may have been a mistake to not at least try to go for the Europa League that I will admit but it's not quite game over for the boys from Naples. Juventus have struggled against teams you wouldn't think they would Napoli is capable of turning this around with the current situation it will be difficult. But they are a very aggressive attacking minded team that are very willing and able to break teams down if Napoli strengthens their defense and does a better job of Defending guys like dzeko they still have a chance. The way they played against Roma despite the results was brilliant most times when you dominate like that you end up with the win if they buckle down and make improvements they still have a chance of taking home the scudetto I don't think it will happen but with the team they have anything is possible.