Shillong Lajong FC, as always, proved to be a juggernaut for Kingfisher East Bengal who played out a 2-2 draw at the Jawaharlal Nehru Stadium in Shillong to leave the Kolkata outfit's title-hope in jeopardy.
Dudu Omagbemi (20′, 87′) continued to showcase his imperious goal-scoring form but he could salvage only a point from the jaws of defeat after Aiban (49′) and Samuel (69′) struck twice in the second-half.
Talk Sports 24×7 analyses the game and brings out the five most important talking points in the match:
1. East Bengal bottled it again: Similar to the last thirteen years, East Bengal have bottled the league once more for the fourteenth time this season. Unlike every year where East Bengal used to start the season on a high and then come soaring down onto the ground and bottled the title hopes, this season has been like a roller coaster. A bad start to the season, they played catch up with Mohun Bagan, Minerva Punjab FC and NEROCA FC. But the latter losing points gave them an opportunity on which they pounced upon. They made an amazing comeback and after thrashing Chennai CIty FC all eyes were on them but, as said earlier, they have almost bottled it again.
2. Mehtab Singh's gameplay is an absolute disgrace: An absolutely disgraceful show from the East Bengal Football School of Excellence graduate and the former East Bengal U-18 team main stopper- Mehtab Singh allowed the home team to score a couple of goals. Firstly a bad game reading from the defender, saw the Red and Golds suffer counter attacks but a solid stopper duo saw the attacks get nullified in the first half. But, as the second half started, the U-22 player for the Kolkata giants seemed tired and absolutely confused. Lajong capitalised on this opportunity. A foul from Mehtab Singh 30 yards away from the goal gifted Lajong an absolute chance for showing off their set piece practice successfully. A missed header from Mehtab Singh from the free kick saw Aibanbha Dohling score from a header and equalise. Later, a tackle inside the box on the forward with no contact with the ball, saw Lajong get another gift as a penalty and Samuel Lalmuanpuia scored from the spot.
3. This gives NEROCA a huge chance to win it: NEROCA FC played their last game on the 18th of February, when they lost to Mohun Bagan 2-3. They got a big time rest before their last game and they surely hope to capitalise on this one. With Minerva's current form being dreadful which gives Churchill Brothers a chance to save relegation, Gokulam's form being amazing which lessens Mohun Bagan's chance of winning it, it comes down to NEROCA to beat the frustrated Red and Gold brigade and win it on their debut season.
4. Al Amna is nothing in a tight marking: Shillong Lajong played a five men defense and maintained a tight man-to-man marking to that of East Bengal's failed zonal marking. Mahmoud Al Amna, East Bengal's main ball player was always marked by two or more of the Highlanders' players. Whenever he touched the ball, his passing options were cut and he was tackled and blocked. This shows how detailed study Lajong coach has done before this match.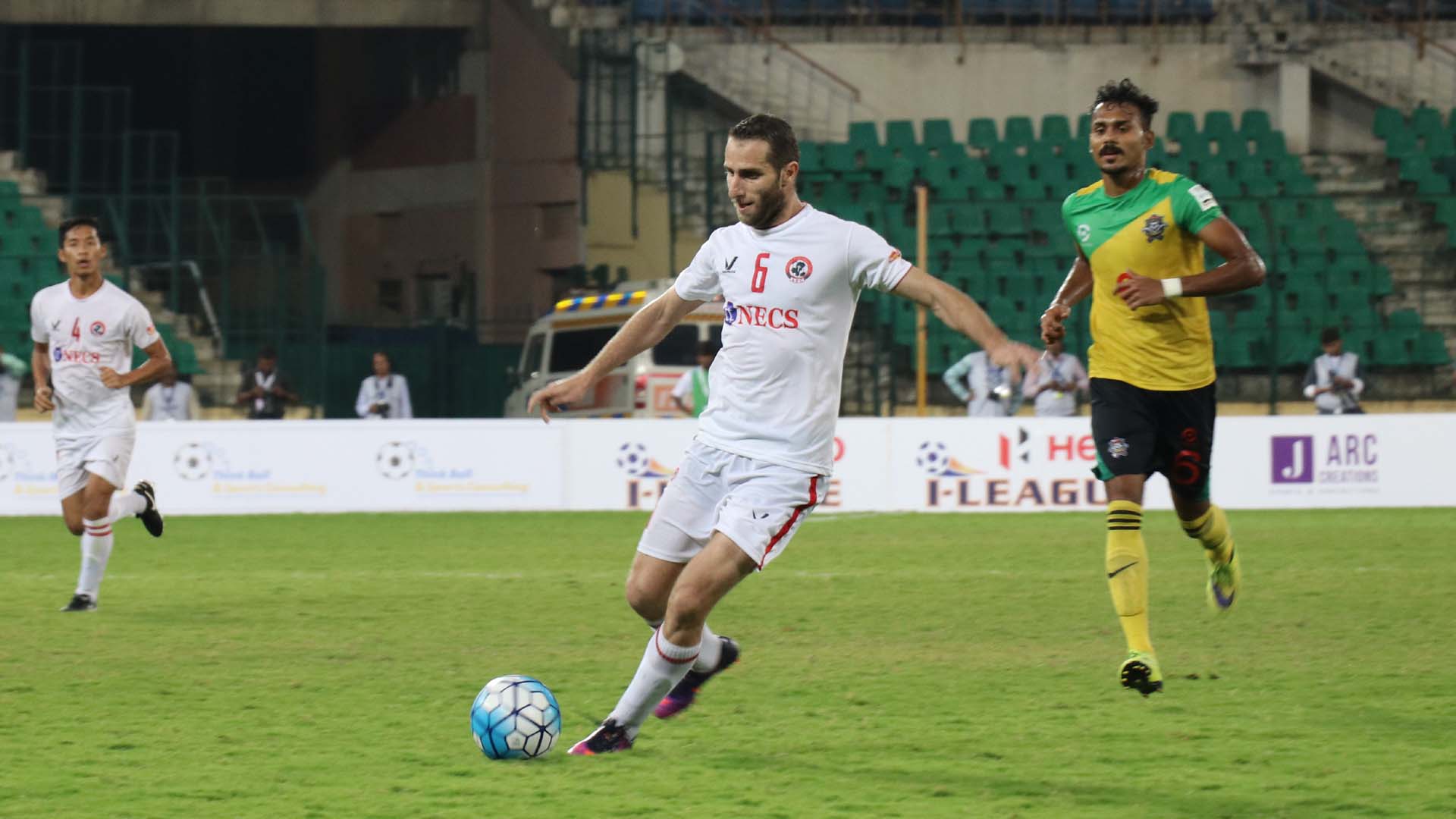 5. Khalid Jamil's strategy was a failure: East BEngal played in a 4-2-3-1 formation against Chennai City FC and defeated them 7-1 in the previous game. He started this game with a single striker and five midfielders. Similar to last game, he brought in Katsumi as a defensive midfielder from the wing, but it did not go as he might have expected it. Although Eduardo Ferreira's absence mattered in the defense, Gurwinder Singh did stand up to his reputation. Khalid Jamil made a wrong decision by letting Mehtab Singh stay in the pitch as long as 75 minutes. His strategies and his "superstitions and premonitions" are highly hated by the Red and Gold supporters as well as the Management as of now.