With the last weekend's fixture between Juventus and Atlanta called off the gap between the league leaders Napoli and Juventus was 4 points and Juventus were successful in reducing the gap to 1 point by a late winner scored by Paulo Dybala in their this weekend's fixture against Lazio at Stadio Olimpico. Let us take a look at 5 talking points from this match.
1. An Undeserved Win
Though it was Juventus who came out on top, it was Lazio who looked like a better side throughout the game. It was tactical masterclass from both the managers. Juventus started the game with five at the back and the defense was too narrow which gave plenty of space for the wingbacks of Lazio and likes of Lulic and Lukaku took advantages of those pockets of spaces to provide service for Ciro Immobile but the defense of Juventus was rock solid and they made sure that they were taking home a clean sheet.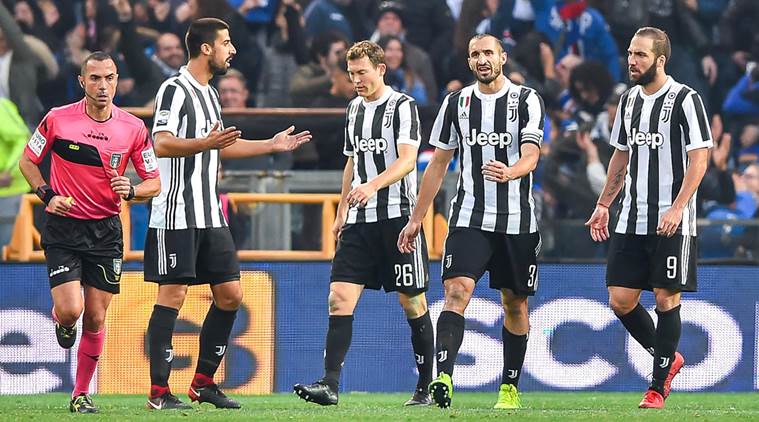 2. The Argentine Wonderkid Paulo Dybala
Just when it started looking like both teams were satisfied with a draw, It was Pablo Dybala who made the headlines by scoring a late winner. Pablo Dybala showed the character and the hunger to win which was missing from the players on the field. Although Dybala looked a bit poor and out of shape in the first half as it was his first start after his recovery but in last 10 mins of the game, he showed the determination which most of the Juventus players were lacking.
3. Midfield Crisis
Although it was Miralem Pjanic, Blaise Matuidi and Sami Khedira who started the game in midfield, Pjanic was the only one who was creating something, Sami Khedira was only moving back and forth on the pitch and didn't really make any notable contributions to the game and though Blaise Matuidi won the ball couple of time, he looked clueless when he had the ball. With a clash against Spurs in the midweek it looks like lot work needs to be done in the midfield.
4. Another Awful Performance by Mario Mandzukic
With Higuain nursing an injury it was Mario Mandzukic who started off as a striker and kind of performance he delivered he definitely wouldn't be looking back at this match. The player of Mandzukic's caliber should be passing better. Things changed drastically when Sandro came on for Mandzukic and Dybala occupied the central role.
5. Lazio's Champions League Spot In Danger
With this loss, things would only be getting tougher and tougher for Lazio to claim the champions league spot. With just 3 points separating Lazio, Roma and Inter were only two spots left the race for the top four would be a good one to watch from the fans perspective.