Welcome to Talk Sports 24X7 Monday Night WWE RAW Review. Today we take a look at the 5 Talking Points of May 21st edition of Monday Night Raw.
1. Ronda Rousey and Natalya:
This week's WWE Raw featured the contract signing segment between the Raw Women's Champion Nia Jax and her competitor, the contender for her title Ronda Rousey. This was a fiery segment that was stimulated by Stephanie McMahon herself.
On the other hand, Natalya qualified for the Money in the Bank match after defeating Dana Brooke, Sarah Logan, and Liv Morgan. This gives rise to an interesting situation, since Ronda and Natalya are friends what if Ronda wins the belt and Natalya wins the brief case! That would be an interesting story.
2. What's Next for Roman:
Everyone thought that WrestleMania 34 would be the crowning moment for Reigns, but WWE changed their plans, and Reigns has still not reached the mountain top! So one has to wonder, what's next for him? Currently WWE is booking him against Jinder Mahal at MITB. This is probably being done to get some cheers for him. However, the audience is still not interested in Reigns. So what's the next logical step for his character? The answer is a Heel turn.
3. The B Team:
I must say that I'm really impressed with this new gimmick for Bo Dallas and Curtis Axel. They're great performers. And this new gimmick of the B-Team is something hilarious, yet fun! It would be really awesome to see them (specially Bo Dallas) go against his brother, aka Bray Wyatt for the gold. A potential match between the Deleters of the world and the B-Team would be goofy, entertaining and fun!
4. Unstoppable Braun:
At this point, Braun Strowman is the brute force of the company. No matter what he does, the crowd simply LOVES him. This was evident with today's match as well, when he went one on one with Finn Balor. Both the superstars put on a decent fight despite the huge size difference.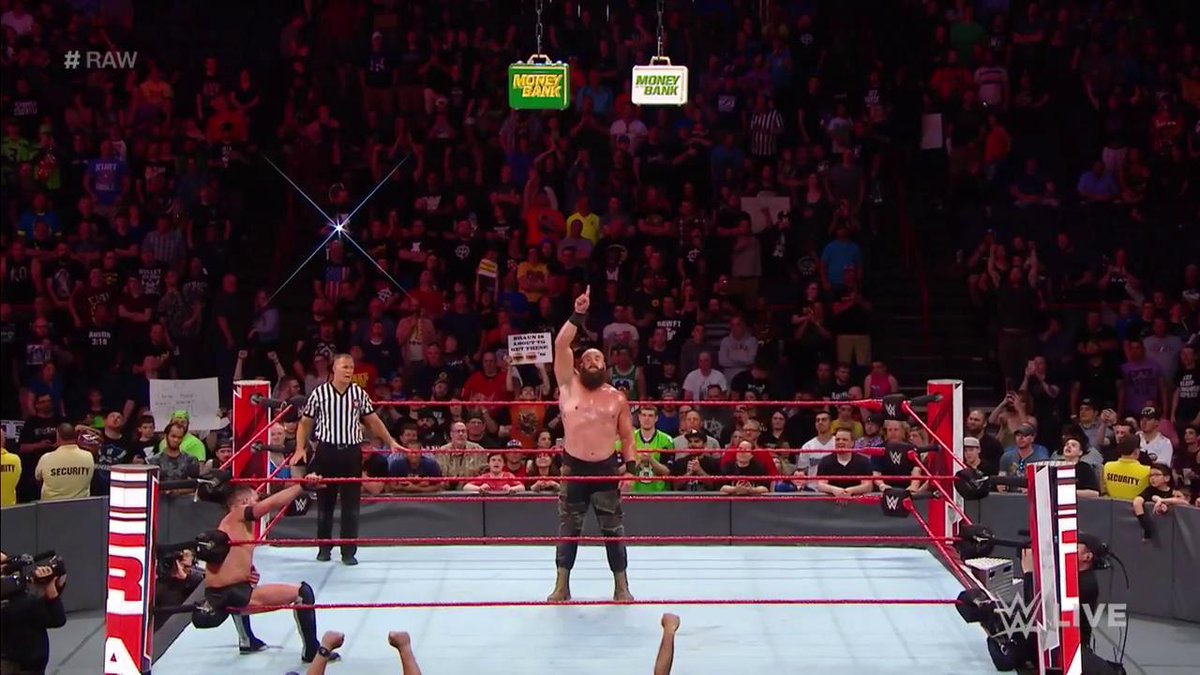 It might be the time that WWE finally realises Braun's true worth by making him win the MITB briefcase. (Although I personally would love Rusev to win, but still, it's very unlikely at the moment)
5. Worst Segment of the Year:
Despite everything, this edition of Monday Night RAW will be remembered for possibly the worst television segment in the recent years. This was way worse than Bayley's This is your life segment! Yes, I'm talking about Bobby Lashley's sisters.I don't even wish to write about this, but sadly I'll have to do it. This was a continuation of ridiculous video segment involving Lashley's sisters. If you thought that was bad, then brace yourself, this was worse.
Sami Zyan came out to the ring and introduced us to the "sisters" of Lashley. They gave ridiculous reasons to belittle Lashley. In the end Lashley came to the ring and beatdown Zayn and his 'so called sisters'. This was cheesy, ridiculous and simply BAD. WWE is misusing both Zayn and Lashley in a really bad manner.