With WWE's Money in the Bank PPV knocking at the door, there hasn't been any news regarding Lesnar's match at the PPV. This currently implies that Brock will go on to beat CM Punk's record for the longest title reign of 434 days. As of today 4th of June, 2018 Brock's current reign over the WWE Universal Championship is 425+ days.
With Lesnar not scheduled to work for WWE's upcoming PPV, it is very likely that the record of CM Punk's longest title reign will be broken. The WWE currently holds CM Punk's reign of 434 days as the sixth longest of all times and the longest of 2010s.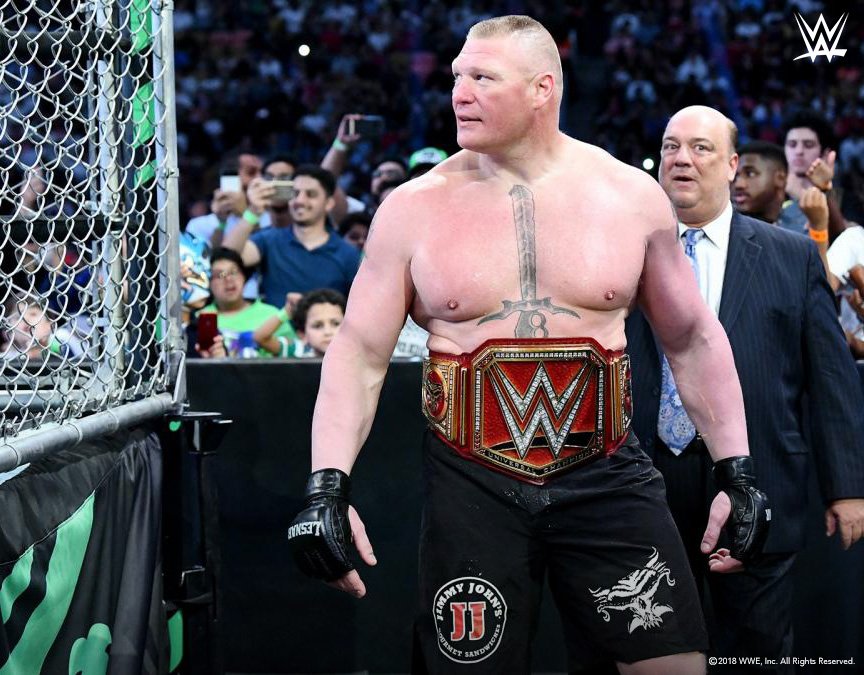 But, should Brock Lesnar be the one to break CM Punk's record? Apart from being called a part timer by the 'Big Dog' Roman Reigns, he also hasn't been able to produce some quality matches since his victory against Bill Goldberg at WrestleMania 34.
Taking a deep look at the stats since CM Punk's win over Alberto Del Rio for the WWE Championship at Survivor Series 2011, CM Punk has reigned successfully for 434 long days. And, his reign consisted of 110 title defenses with almost 110 appearances on WWE Live shows. His reign was ended by the Rock at the Royal Rumble 2013 but, his 434 day reign consisted of great defenses against Del Rio, John Cena, Kofi Kingston, Dolph Ziggler, The Miz, Chris Jericho, Ryback, Mark Henry, Kane, Daniel Bryan, Big Show and Sheamus. All of Punk's matches were worth watching and he certainly proved himself to be a fighting champ, but, looking on to the stats of Brock Lesnar's long reign, it doesn't seem as pleasing as it should have.
Brock Lesnar has held the title for about 425+ days now. He won it back in WrestleMania 34 by beating Bill Goldberg and since then he has only 10 title defenses with only 4 appearances on WWE Live shows. He has successfully defended his title against Samoa Joe, Braun Strowman, Roman Reigns, Kane. And, even more surprising is the fact, that he didn't defend his title for three months after his victory over Joe at WWE's Great Balls of Fire 2018.
Going through all of these facts over and over again one thing is clearly evident, Brock Lesnar is really a part timing champ who will break CM Punk's great record of the modern era.
According to many wrestling fans, Brock shouldn't be the one to break Punk's record, maybe AJ Styles but, not him. But, what I feel is, he shouldn't be just seen as a part timer, Lesnar is a great wrestler and the company should come up with great matches for this phenomenal player and should also come up with a wrestler who actually can end this not so good Universal Championship reign.