Chelsea acquired a big win over Cardiff City after the international break. The Blues looked little unsettled in the initial stage of the game. However, Sarri's men came back from 0-1 and made it 4-1 at the end of 90 minutes in Stamford Bridge. Cardiff took good advantage of the situation with a smart set-piece routine resulting in the opening goal for Sol Bamba. Hazard made sure that Chelsea don't loose three points and destroyed the Bluebirds with a score line of 4-1.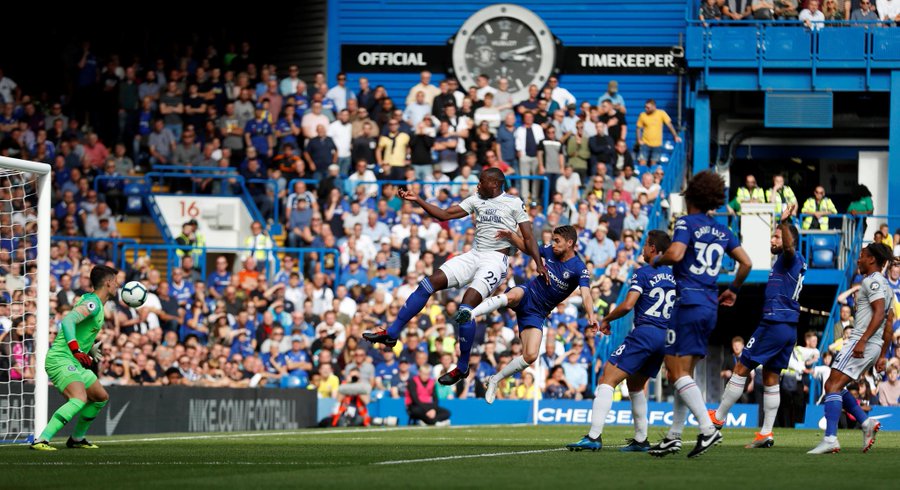 After that early goal from Sol Bamba, Eden Hazard scored two back to back goals to keep the Blues in lead. Eden Hazard completed his hattrick by scoring an 80th-minute penalty and Willian rounded up the scoring with a sensational curler within three minutes of the previous goal. Overall it was a comfortable 4-1 win for the Blues and Chelsea continued a stellar start to life under their new Italian manager Maurizio Sarri as the Blues are enjoying the top position in the Premier League.
Here are the few talking points of this encounter.
● Sarri opted for Giroud over Morata:
Alvaro Morata was expected to start the game for Chelsea as striker but Sarri had other ideas and went in with Giroud against the Bluebirds. The Spaniard could not hold on to the starting spot as it looks like he still has not been able to shake off last season's problems. Giroud's decision was made right by Sarri as he was joy to watch his link-up play between Eden Hazard. As a traditional target man striker, surprisingly, his inclusion suddenly made Chelsea's attack look much more fluid as compared to Chelsea's first four premier league games. Still as a striker fans expect him to find the net, yet he was crucial and involved in Eden Hazard's two goals.
● Solid defense from Chelsea:
Chelsea has improved a lot in defence compared to their previous performance and they were seen settled with the back four. Chelsea did have initial defensive jitters early in the season but now the defensive shape looks much better as they get accustomed to defending together as a team overall. The center back pairing of David Luiz and Antonio Rudiger looks settled. Both the defenders complement the system perfectly. The pair boasts of accomplished ball playing skills, have unfazed the most physical of threats and most importantly possess the pace to play a high defensive line in the system. The Spanish pair of Cesar Azpilicueta and Marcos Alonso were also looked too settled both offesnively and defensively. This is a good sign for Sarri as he can now challenge the title with this solid defense.
● Eden shines:
The Belgian star stole the show as he scored a hat-trick of goals against Cardiff City in Stamford Bridge. Eden made sure that Chelsea didn't loose all 3 points after an early goal from Sol Bamba. Hazard linked up well with striker Giroud and scored two brilliant goals in the first half and converted another penalty in the second half to complete his hat-trick for the Blues.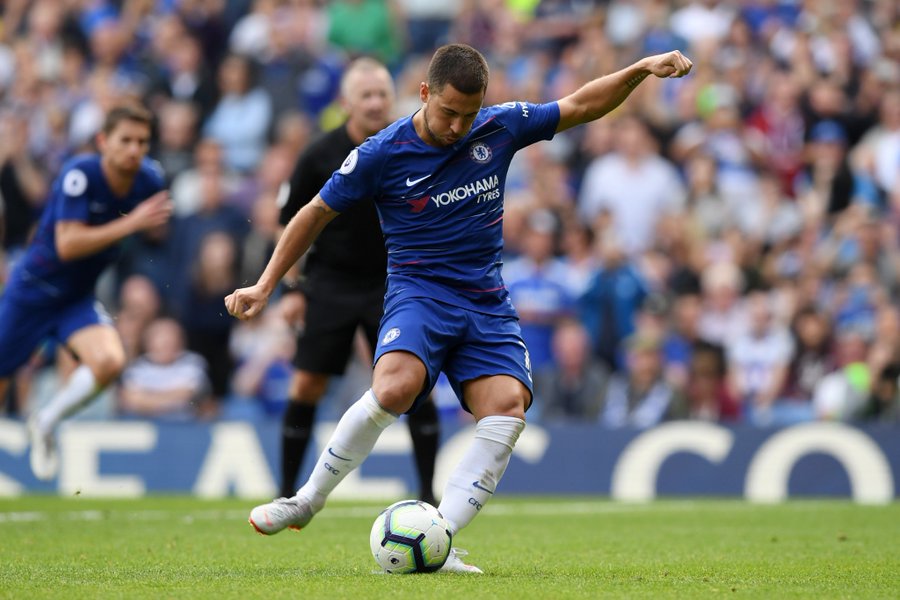 Eden Hazard is playing with a manager known for playing attacking football for the first time in his Chelsea career and he is enjoying life under his new coach. Moreover, this new-look Chelsea side is built around him and there is every chance that we get to witness a special season from the diminutive winger.
● Tough lesson to learn for Cardiff :
It was a very impressive display from Neil Warnock's side, who set up well to frustrate Chelsea but by no means parked the bus at Stamford Bridge. Playing away at one of the Premier Leagues top clubs, Cardiff would have been forgiven for locking up but they very much played the way they wanted to play. The Bluebirds' defence and midfield were outstanding, with the one blotch on an impressive performance being Sol Bamba's mistimed lunge on Willian. Warnock may expect more of his forwards in future, offering little to profit off the chances his midfield did create and leaving Cardiff never looking like they would get back into the game after going 2-1 down. This would be a lesson for them to strike back again.
● Positives of Cardiff City from this game:
For the second time this season, a Cardiff set-piece brought a goal and the hard work of assistant manager Kevin Blackwell is yielding impressive results. The Bluebirds had been strangely off colour from dead ball situations in the opening three games of the campaign, but to have scored in successive games against 'top six' sides will please the Cardiff coaches. The control Cardiff were able to assert at times in the second half that emerged as a huge positive. Both Bobby Reid and Danny Ward excelled up front and some of the football was crisp and incisive.
● PLAYER RATINGS:
○ Chelsea:
Arrizabalaga (6);
Cesar (6), Rudiger (5), Luiz (5), Alonso (6);
Kante (5) Jorginho (5), Kovacic (6);
Pedro (7), Giroud (8), Hazard (9).
• Substitutes: Barkley (6), Willian (8), Zapacosta (6).
○ Cardiff City:
Etheridge (9);
Bennet (7), Bamba (9), Morrison (8), Manga (8);
Hoilett (6), Arter (5), Ralls (7), Camarasa (6);
Reid (7), Ward (5).
• Substitutes: Jazz (7), Paterson (6), Madine (6).