ISL 2018/19 Team Profile : Bengaluru FC
As the Indian Super League season 5 is set to start, Bengaluru FC would want to get one step ahead than they did last season. They had an extraordinary season last time but were unfortunate to lose In the final. After having an extraordinary campaign Bengaluru FC players were targeted by the other clubs. They did lose some of their key players who played a major role in the last season of Indian Super Lague. They lost Subhasish Bose who played a major role as a left back to Mumbai last season and also John Johnson to ATK. They also lost Tony Dovale. They not only lost major signings but also a great manager from Spain in the form of Albert Roca. As the West Block Blues and other stands of kanteerva chanted. They also will be excited to see the new manager Carles Cuadrat continue the success the club has had over these years. They have made some new singings for the coming season. Let us have a look at the team.
● SQUAD ANALYSIS :
○ Goalkeepers :
• Gurpreet Singh Sandhu :
Gurpreet will look to continue his fine form beneath the goal. He also has extended his contract with BFC. He will be vital for Bengaluru FC's success this season Fans will hope his long balls to Chhetri will continue as it helped them score a lot of times last season. They also will look to see him at top form between the two posts.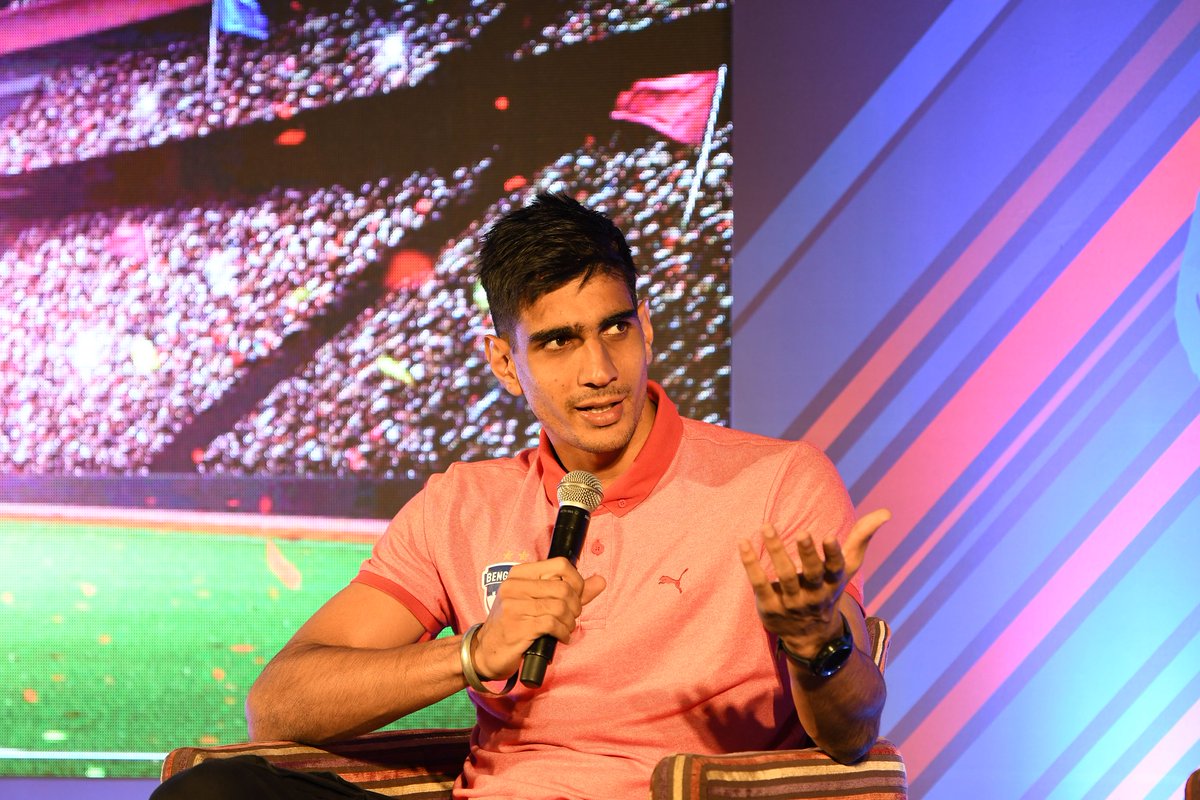 • Soram Poirei :
He will be the second choice goalkeeper for Bengaluru FC this season. He was part of Bengaluru FC back in 2013 and was there till 2015 and then he moved to the North-East side Aizawl FC. When Poirei was asked about his return to Bengaluru FC, he said it feels great to be back at the club where he made some amazing memories; winning his first I-League title and the Federation Cup. He added, "The atmosphere at this club is amazing and everybody is professional in their approach. We have some top players in the squad and it should be a great learning experience once again. It's going to be a challenging season but I'm looking forward to it," said Poirei after penning a one-year-deal.
• Aditya Patra :
He will be the third choice keeper for BFC. He plays the under 21 matches regularly for the club. With time and effort he can improve and be a much better player.
Department Rating : 6/10
○ Defenders :
• Nishu Kumar :
"If you are happy and you know it shout Nishu, Nishu. If you are happy and you know it and you really wanna shout, Nishu, Nishu".
What a player he has turned out to be. We've only seen him improving over the years. He has also got calls for international duties. After coming on as a substitute for most period of last season behind Bose, it will be a total different thing for him this season as he would be starting a lot of games for BFC this time. He will look to be at the top of his form this season.
• Rahul Bheke :
He will also play a crucial role this season. He will most likely play as a right back most of the time unless manager feels it's required to make him play as a center half . With crossing being pin point, it can help BFC a lot.
• Juanan :
He will continue to play as a center back for BFC. Bengaluru will hope that he doesn't do the silly errors at the back that he often did last season. The 30-year-old central defender made his debut for the Blues in the 2016 AFC Cup and even scored a memorable goal in Bengaluru FC's 3-1 win over defending champions Johor Darul Ta'zim in the semifinals at their fortress. Juanan also played an important role in the Blues' second Federation Cup triumph in Cuttack in May 2017.
• Rino Anto :
He made his return to the club this season having played for Kerala Blasters last season. He was part of the BFC team that won I-League and also the Federation Cup. He will have to fight hard for a place in the starting XI.
• Albert Serran :
Bengaluru FC announced the signing of 34-year-old centre-back Albert Serran, ahead of their Indian Super League campaign. A widely travelled defender, Serran joins the Blues as their seventh foreign signing, having turned out for Carles Cuadrat's men in two pre-season friendlies, against Villarreal CF B and FC Barcelona B.
• Harmanjoth Singh Khabra :
He barely played last season due to injuries. He did have a bit of game time in AFC Cup. He will look to get more game time under his sleeve this season.
• Department Rating : 7/10
○ Midfielders :
• Erik Paartalu :
The tall Australian midfielder who plays as defensive midfielder for Bengaluru FC will be crucial for them this season. He was a vital player for BFC last season too. The Australian extended his contact with BFC and will look to help the Super Cup champions lift the ISL this season.
• Dimas Delgado :
He is the Spanish magician for Bengaluru FC who gets the things going for Bengaluru FC. His creativity will be the key for Bengaluru and will look to stay injury free unlike last season.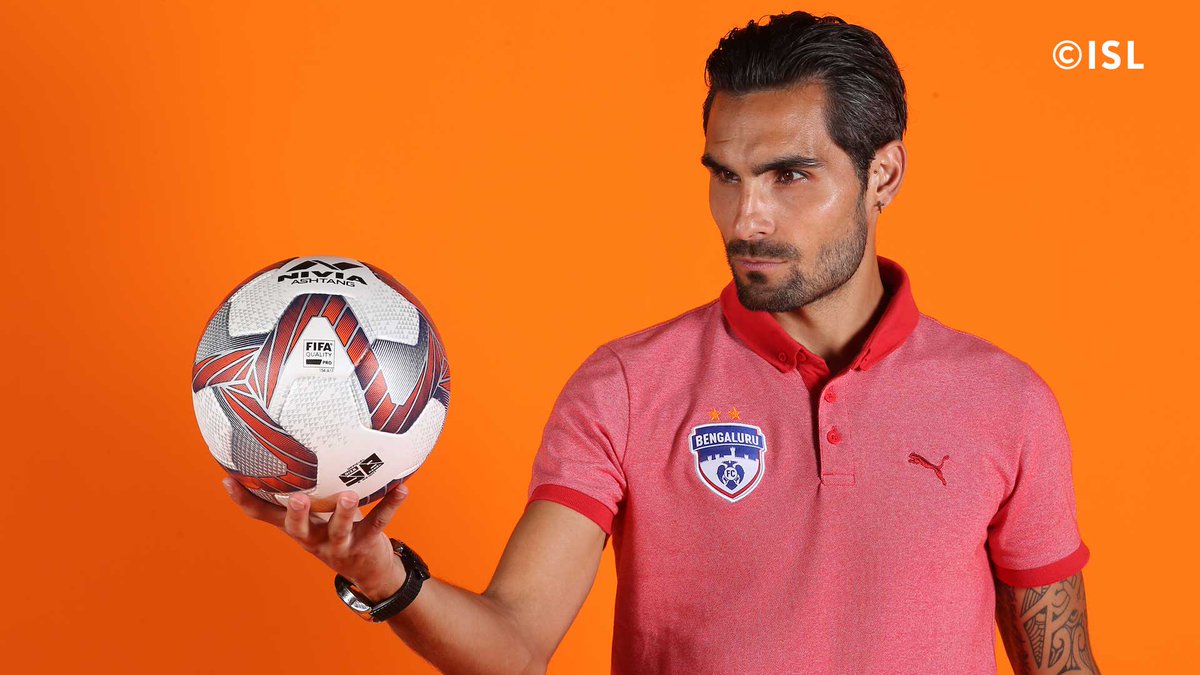 • Kean Francis Lewis :
Having come on from the bench in the AFC Cup, he had a good game. He got his crosses in brilliantly and got himself an assist too as Paartalu got his head to one of the crosses. Although Bengaluru FC left it late that much, Kean Lewis had a good game.
• Boithang Haokip :
He started the game for Bengaluru FC ahead of Keane Lewis in the AFC Cup tie but wasn't that effective in the game. He will have to fight for his place in the starting lineup with BFC having made new signings.
• Xisco Hernandez :
Bengaluru Football Club have roped in winger Francisco 'Xisco' Hernández Marcos on a one-year-deal. The 28-year-old winger who can also operate as a second striker and a playmaker becomes the sixth foreigner in the current squad and ninth Spaniard to play for the Blues since 2013. He has been good for the blues in the pre-season and will look to continue his good run of from.
• Ajay Chhetri :
Young, talented Ajay Chhetri who plays as a midfielder for Bengaluru FC is one of the young Indian players to watch this season. He is the upcoming talent for Bengaluru FC, an exceptional talent. He will be the future of BFC with years to come.
• Department Rating: 7/10
○ Forwards :
• Chencho Gyeltshen :
The Bhutanese forward who played for I league team Minerva Punjab was the star of the I-League last season. He will look to be the star of ISL this season. He has joined a team which already boasts a great attack. His versatility of playing in all positions upfront will earn him a place in the XI, but with the firepower that Cuadrat has in his forward-line he can have the luxury of looking at other options if Chencho fails to fire in initial matches.
• Nicolas Fedor Flores (Miku) :
The player who took ISL to a whole new level last season having scored 20 goals in 15 matches will be an important figure in the side this time as well. He played a vital part in Bengaluru FC reaching the finals, unfortunately they did lose in the final. They will look to win it this time around and for that they will badly require Miku in last season's form.
• Udanta Singh :
'The Flash' of Bengaluru FC, his pace can tear teams apart. He is an amazing young talent not only for Bengaluru FC but for India too. He has to improve on his decision making and If he does that then he will be an asset for both his franchise and country. He being in good form will be the key for Bengaluru FC .
• Thongkhosiem Haokip :
He will look to do well everytime he gets a chance. It will be hard for him to play first team football. He has a lot of competition.
• Sunil Chhetri :
He is the 'Captain, Leader, Legend' for Bengaluru FC and India . What a player! He runs non stop, he gives his all each time he gets on the field. He will be extremely vital for Bengaluru FC. He is an amazing inspirational figure to the squad which is required in every squad. Chhetri was the third top scorer for Bengaluru FC last season below Ferran Telechea and Nicolas Fedor Flores (Miku). He will look to perform well for them, and see if they can win ISL this season.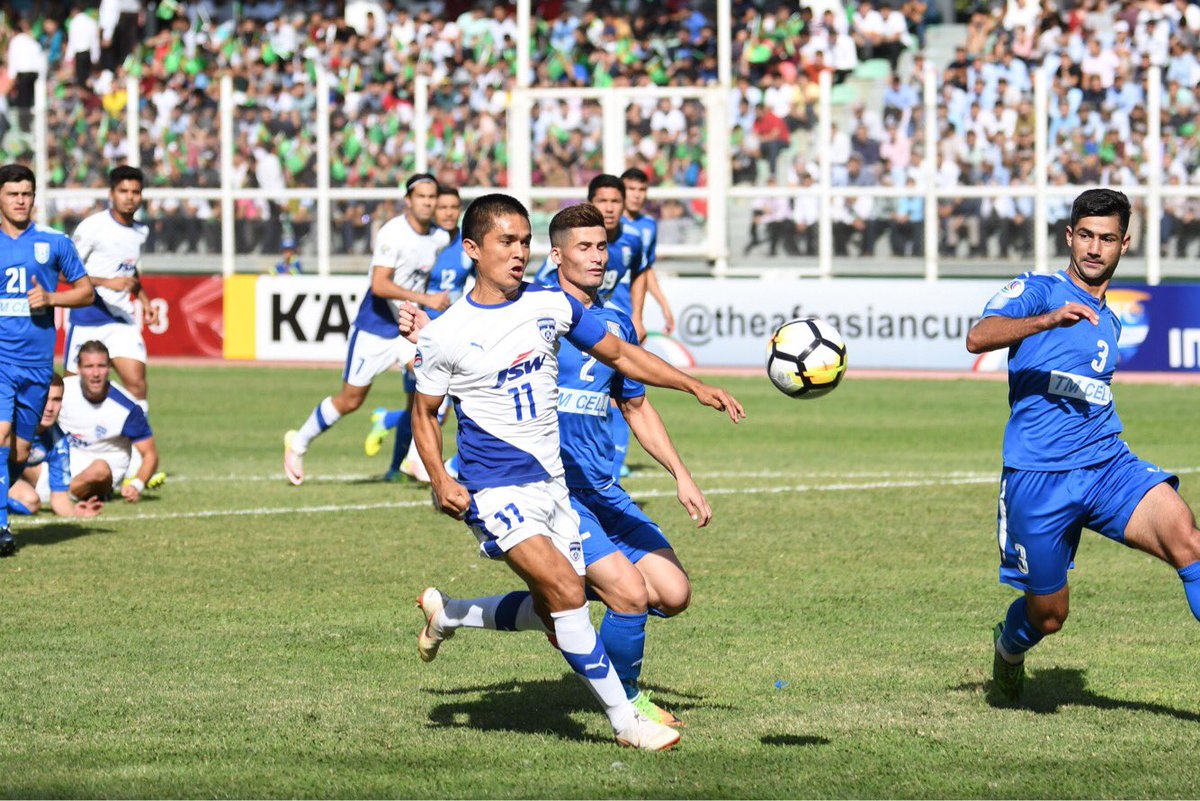 • Department Rating: 8/10
○ Reserves :
Anganba (goal keeper)
Bidyananda Singh ( midfield)
Altamash Sayed (midfield)
Sairuat Kima (defense)
Asheer Akhtar ( defense)
Gursimrat Singh Gill (defense)
○ Manager :
Carles Cuadrat :
He has been in BFC previous season as an Assistant Manager. He will look to do well as Manager in his first season for Bengaluru FC. He will look to continue Bengaluru FC's streak of winning a trophy in all five years. He has got some major signings. He has had a good preseason playing with teams like Barcelona B, Villarreal B. He will hope to see his side win the ISL this season.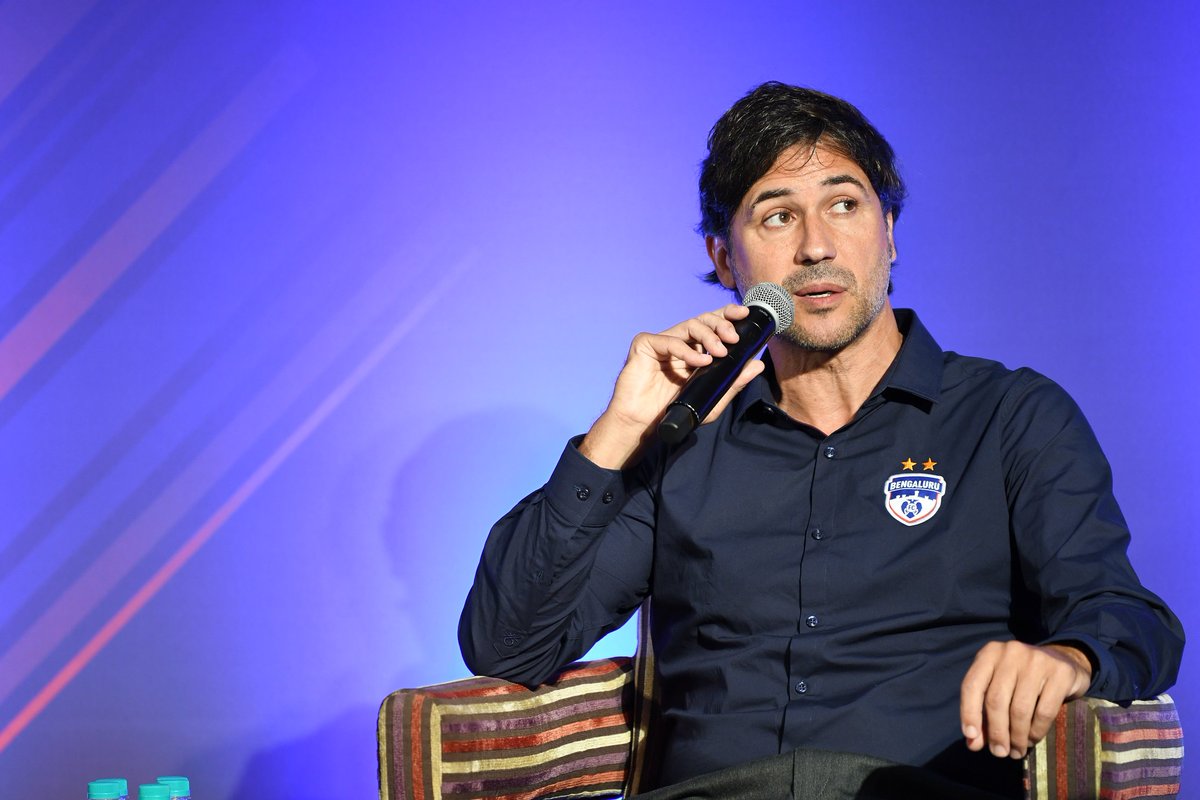 Returning to Bengaluru, Cuadrat commented, ''I am very happy to come back to the club, to the fantastic people who work for it and to the fans who I have always had a special place for, in my heart. I am also grateful to the management for reposing such faith in me. What Albert achieved at the club is special and it won't be easy to replicate. But I will be giving this opportunity everything I have, and I believe with the right amount of hard work and passion, we can keep achieving success at BFC.''
● PRE-SEASON RECORD :
Bengaluru FC had a decent pre season. They lost to Barcelona B and Villarreal B. They also lost in the AFC CUP. But they did win the rest of the matches apart from these by a large margin as well. They will hope to win matches in ISL too with prominent margin.
● PAST RECORD:
Bengaluru FC got entry in ISL last season only and in their very first reached the Final where they lost to John Gregory's Chennaiyin FC. They finished top of the table in the group stage and were backed by experts as the potential champions.
● FIXTURES (all at 7: 30 PM IST) :
• Bengaluru FC vs Chennaiyin FC (30th September 2018)
• Bengaluru FC vs Jamshedpur FC (7th October 2018)
• FC Pune City vs Bengaluru FC (22nd October 2018)
• Bengaluru FC vs ATK (30th October 2018)
• Kerala Blasters vs Bengaluru FC (5th November 2018)
● PROBABLE XI :
Gurpreet Singh Sandhu;
Rahul Bheke,
Albert Serran,
Juanan,
Nishu Kumar;
Eric Paartalu,
Dimas Delgado,
Udanta Singh,
Sunil Chettri,
Keane Lewis,
Miku
● AUTHOR'S TAKE :
As Bengaluru FC have a solid attack this season, they will continue to be the side that continues to play attacking football. They did have a extremely weak defensive display in the pre-season after the departure of John Johnson and Subasish to ATK and Mumbai City FC respectively. But they have got Seran after their pre season and they will hope he is the solution for their defensive problems. His experience can help BFC a lot and he will hope to give his best for his new club. He has played football with Swansea City in the English Premier League. He has played 30 games for them and 90 games for the Spanish side Espanyol. Bengaluru FC will hope they can win the title this time. They definitely have the team on paper to win it. West Block Blues blues will continue their support for the team with their chants. They all planned one day to meet up to prepare the chants. Their fans are definitely backing them and it is upto them to play well on the pitch.
○ Predicted Finish :
Potential winners.