For a man who sported the larger than life personality, a flawless genius who redefined how football was meant to be played, the loss of Diego Maradona exhibits a huge loss for the beautiful game.
Diego was famous for uncountable things on and off the field. Out of these, we list some of the unknown facts you might not be aware of the 'God of football' :
Maradona bettered Messi's technique:
As Messi's dad would acknowledge, the six-time Ballon D'or winning Argentine grew up following Maradona. Once Messi came into prominence, there were different debates on who is better. Both held high regards for each other. However, there were instances of controversies in which Maradona criticized Messi of not being an adept leader and if he failed to perform at a level the Napolean superstar wanted him to. At the same time, Maradona played a crucial role in enhancing Leo's career. Back in 2008, when Maradona became the coach of Argentina National Team, he keenly scrutinized Messi's free kicks. During and after training, Maradona would spend time with Messi to work on taking free-kicks. Until 2010, Messi had only scored 3 goals from direct free-kicks. After spending time with his idol, he now has 44 goals added from direct free-kicks.
Maradona- A Religion :
Yes, when we say Diego Armando Maradona was more than just an athlete, we mean it. His fans made him a religion by creating a church named Iglesia Maradoniana, which in English means Church of Maradona. The church was inaugurated on 30th October 1998 on Maradona's 38th birthday. As of today, the church has more than 2,00,000 faithful and Ten Commandments which includes The ball is never soiled, Love football above all else, Declare unconditional love for Diego and the beauty of football, Defend the Argentina shirt, Spread the news of Diego's miracles throughout the universe, Honor the temples where he played and his sacred shirts, Don't proclaim Diego as a member of any single team, Preach and spread the principles of the Church of Maradona, Make Diego your middle name and name your first son Diego, Respect Dom and Dom only. Supporters of the Maradonian Church, supposedly from all parts of the world, count the years since Maradona's birth in 1960!
A Torchbearer for Argentina :
Maradona was capped 91 times for Argentina and scored a total of 34 goals. He featured in 4 FIFA World Cup competitions and captained Argentina on 16 games. He holds the record for showing up as skipper of any nation in the FIFA World Cup. Altogether, be that as it may, Maradona featured in World Cup competitions 21 times. Maradona captained Argentina to win World Cup in 1986, defeating West Germany 3-2 in the last game.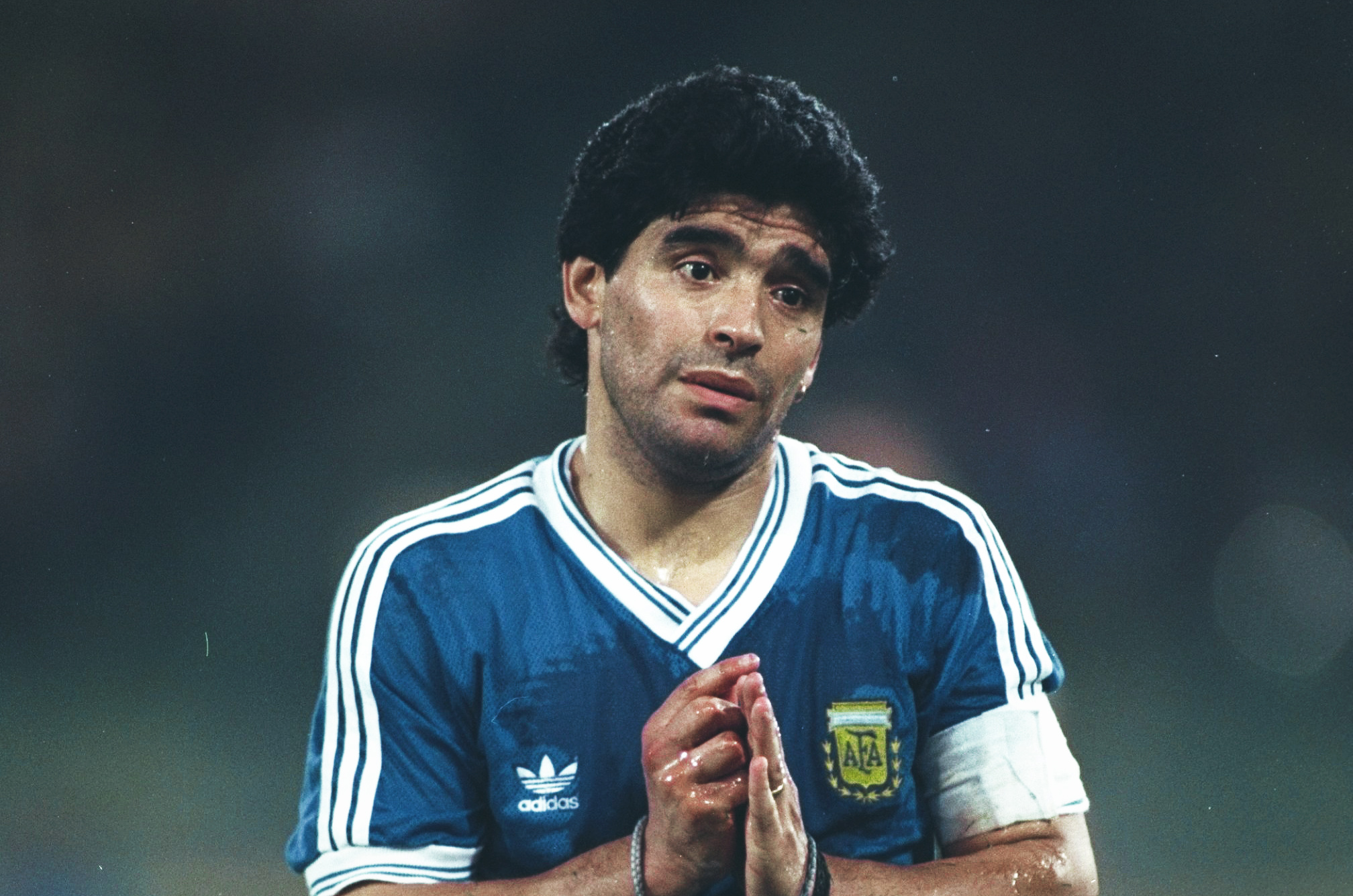 When Naples went against Italy for Maradona :
In 1984, Maradona arrived in Napoli after a record transfer fee of £6.9m transfer from Barcelona. He was bestowed with the captaincy immediately and stormed the team into winning the Serie-A title twice. He also won the UEFA Cup and Italian Super Cup with Napoli, giving a distinct identity to the city of Naples, which was otherwise very neglected. Having won the world cup in the prior year of joining Napoli, he automatically became one of the global superstars to have ever played the game. He steadily became a legend at Napoli and an icon for the working class. The city of Naples was considerably neglected by the rest of Italy. The city produced the highest number of blue-collar workers. Naples was also infamous for its high drug production and a dumping ground for toxic wastes for decades. With the arrival of Maradona and his contributions, the city got a new life. Astonishingly, during the 1990 World Cup, the residents of Naples faced a stern test of their 'national character'. Argentina was facing Italy in the Semi-Final at San Paolo which was "Maradona's home ground". Numerous citizens faced a dilemma on whom to support and many were seen hosting Argentina's flag. Such was the impact of God Diego.
Maradona had a TV show with Pele being it's first ever guest!
Many of you may not know that Diego Armando Maradona hosted a TV Show in Argentina back in 2005 named 'La Noche del 10'. On the very first episode of the show, the invitee was Brazilian legend Pele with whom Diego was seen in a very light mood abd the two even had a heading practice. The show saw footballer guests like Zinedine Zidane, Ronaldo and athlets from other sports like Mike Tyson or politicians like Fidel Castro. Tyson was gifted a No 10 Argentina jersey signed by Diego which he wore on his arrival in Brazil!